We only had 1.5 days to spend in London before heading to France, but a real English tea was high on the priority list. After spending all night on the plane, then all day at Lego Land, we were exhausted and in need of a break.
We got off the bus near Windsor Castle, where we found an adorable tea room called The Crooked House. We ate upstairs by the window, overlooking the busy street below. It was so cozy and warm inside, and we felt much better as our damp clothes and hair dried.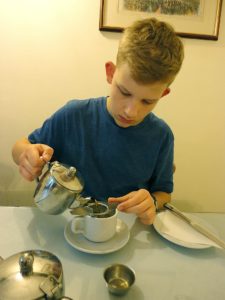 Lucky for me, my boys aren't a bit ashamed to join a tea party! For most of their childhood, especially in winter, we often had "second breakfast" or "Elevenses" of fresh muffins, scones, or some other baked good, along with tea or cocoa.  That was always my favorite part of our homeschool day!
But this was even better… I felt like a character from a Beatrix Potter book as we nibbled on delicious sandwiches and sipped our tea. The clotted cream and jam on our scones was divine. And then there was the entertainment of listening to the people talking near us in their various English accents.
My favorite was a mom, dad, and their 5-ish-year-old boy named Henry. When his grandma arrived to join them, he greeted her so formally, with "Good afternoon, Granny, are you quite well today? Yes, I'm very well too, thank you." They commented on how good the biscuits (cookies) were, and the dad mentioned to Henry that "Granny makes cracking good biscuits, too, doesn't she?"
Fortified with our meal, we braved the weather again to walk around near Windsor castle. Then we caught a bus back to our hotel in London and slept the clock around! The next day were were scheduled to ride The London Eye before catching the train to Paris.
Save
Save
Save