Soufflé au Fromage – Cheese Soufflé Recipe
For your next cooking project, why not try a soufflé? It's really not as hard as you may expect, and the kids will love seeing how tall it "grows." The word soufflé means blown or puffed, and it comes from the verb souffler, to blow. Making a soufflé is like watching a balloon inflate, but without the worry of it popping unexpectedly!
There are all kinds of savory soufflés, made with salmon or other seafood, spinach, or cheese. These are eaten as an entrée (appetizer) or as a light lunch or dinner, with a salad. You can also make a chocolate soufflé for dessert.
The three basic steps of making a soufflé are:
Make a simple white sauce with butter, flour, and milk; add cheese or other flavoring.
Separate some eggs and beat the egg whites until tall and fluffy.
Mix the two parts together gently and bake it until puffy and golden brown.
Doesn't that sound pretty easy? This is another one of the recipes I learned from the cooking class I took in Paris.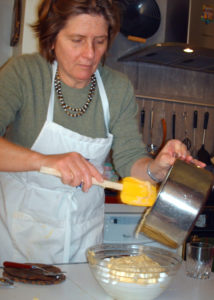 I had always wanted to make this, but I had heard it was really tricky to keep them from falling. It's really not – you just have to be ready to eat it as soon as it comes out of the oven. In other words, "You wait for the soufflé, the soufflé doesn't wait for you!"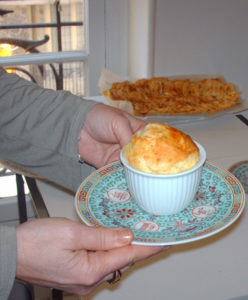 Et voilà! A lovely first course for a meal.
Bon appétit!
Soufflé au Fromage - Cheese Soufflé Recipe
Author:
Chef Laura - World in a Pan
Ingredients
¼ lb emmental cheese (or good Swiss cheese)
2 Tbsp unsalted butter
½ cup flour
3 eggs
1½ cups milk
2 Tbsp crème fraîche (or sour cream)
nutmeg
salt and pepper
Instructions
Preheat oven to 375 F.
Grate the cheese and set aside.
Melt the butter in a small saucepan; whisk in the flour until smooth.
Stir in the milk slowly, stirring constantly to avoid lumps. Remove from heat and let cool (do not add cheese yet).
Separate the eggs; beat the egg whites and salt in a mixer or bowl until firm.
Add the cheese, egg yolks, and crème fraîche to the white sauce; stir until blended.
Add ⅓ of the egg whites to the cheese mixture; fold in until combined. Gently fold in remaining whites.
Butter and flour small ramekins or ovenproof dishes; fill ¾ full with cheese mixture.
Place ramekins in a large ovenproof pan; pour boiling water into pan to reach halfway up the sides of ramekins.
Bake 10 minutes until golden brown. Season to taste.
Save
Save
Save