I've been fascinated by the London Eye ever since it was built in 2000 — even though I'm the world's biggest chicken when it comes to heights. On cold, winter days when I had travel fever, I'd scare myself sick watching youtube videos of people riding on it, but I still dreamed of experiencing it with my kiddos. I put it on my bucket list in 2009, at the time not knowing when or if we'd ever get there.
We did, much sooner than I imagined. In 2011, we flew to England on our way to France. We only had 1.5 days to spend in London, but I was determined to squeeze in a ride on the giant wheel.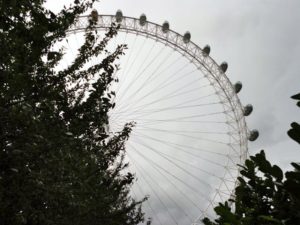 As we made our way through the Tube system, I kept wondering if I could really do it. I'd already faced my fear on the Eiffel Tower, but this thing was a whole different animal. Not just standing tall and still — it's in constant motion, and you can't get off if you change your mind, until it completes its 30-minute rotation.
The closer we got to it, the bigger it grew, as did my fear. I half-hoped one of the kids would be too scared, so I could have the lame excuse of skipping it myself, but nothing doing! They weren't a bit scared (yay, boys!), so I had to "man up."  Thankfully, the line was short, so I didn't have too much time to think about it. I forced myself to step on and hoped for the best.
I'm not gonna lie; for the first 10-15 minutes, I felt pretty ill. It didn't help one bit that there was an obnoxious 2-year old who kept jumping up against the glass doors and sliding down, then kicking and screaming at them repeatedly, in defiance of the signs everywhere that warned "DO NOT LEAN AGAINST GLASS!" I was sure each jarring blow of his little wellies would shatter the glass into a million pieces, and we'd all plummet to our watery graves in the River Thames below. I stared daggers at his oblivious parents.
Once we reached the top, the worst was over, and it could only get better as we inched closer to the ground. That's when I finally started to relax and take some pictures!
Here's a lovely little video someone made to show what it's like to be on board (minus the kicking, jumping 2-yr old in wellies).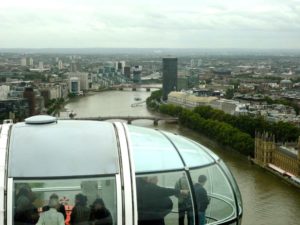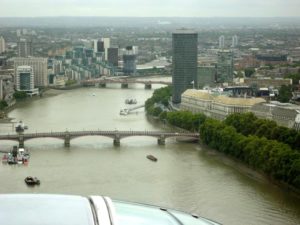 Happiness is being back on the ground, AFTER riding the wheel. Hooray for checking another item off my Bucket List!
Now let's go celebrate with some fish and chips!
Fun facts about the London Eye:
Opened in March 2000, also called the Millennium Wheel
135 meters = 443 feet = 41 stories tall
32 passenger capsules represent the 32 boroughs of London
Holds 800 passengers at once (up to 25 per capsule)
Each rotation takes 30 minutes at 0.6 mph
360° view with sight distance of 25 miles (40 km) in all directions
Save
Save
Save