Our First Homeschool Graduate
This post is sponsored by Kleenex. Not really, but it should be! I feel like it took at least a million tears (both his and mine, both happy and sad) to go
from this point:
to this point:
But we did it!!!!!!!!!!
We joined with two other homeschool families to create our own traditional graduation ceremony. Since it was the first graduate for each family, we were so excited and spent months planning. We rented a facility and chose colors, decorations, food, and music. A family friend was our photographer.
We each prepared a speech and slideshow to share our familiy's homeschooling highlights. I shared a short compilation of Wyatt's best animated films he'd created for his YouTube channel.
My very favorite part of the ceremony, was when they went outside to throw their caps. First a quick, proper toss-up, but watch the ending to see what the boys did! It makes me laugh-cry every single time!  Kleenex, get me more Kleenex!!!
We moms had so much fun planning little surprises for each of our kids — with music from their childhood, favorite treats at the reception, and a JibJab video featuring their photo 'heads' singing and dancing to Pharrell Williams' "Happy" song.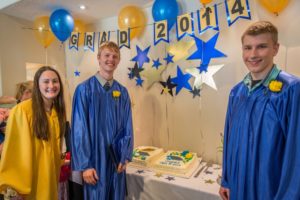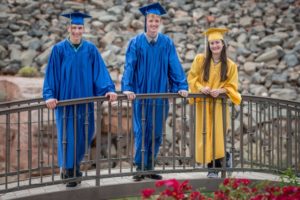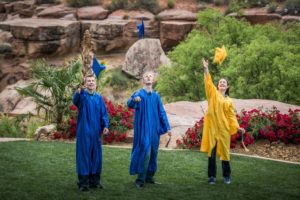 And guess who else gets to wear these?  We each just finished high school for the SECOND time! We must be extra smart!
Save
SaveSave
Save
Save