Before I set foot in France, the Eiffel Tower was a cute cliché, a romantic ooh-la-la notion of idealized Paris. Impressive architecture, yes, but also kind of a kitschy tourist trap, not worth much time.
The trouble is, I have a terrible phobia of heights. And I hate elevators, especially glass elevators. One time in the 90's, my hotel room for a convention was on the 8th floor, overlooking an atrium. I skipped the elevator for the stairs, but I was so woozy from the height, I had to crawl along the balcony to my room. I was that neurotic.
So my only plan for Eiffel was to get the obligatory tourist photo, standing on terra firma with the tower in the background. I could never go up that weird, diagonal glass elevator (and the stairs are nightmarishly see-through, for goodness' sake!).
But I didn't get to plan this first trip; it was a short, pre-arranged tour with a group of teachers, a dirt-cheap promotion for potential tour leaders. At age 35, I had waited an agonizing 21 years to go to France, after sad circumstances (and admittedly, a hefty dose of fear) prevented my plans to study abroad in high school, and again in college. But now at last, I was going!
When the detailed itinerary arrived in the mail, my heart sank: the farewell dinner was in a restaurant on the Eiffel Tower! I knew immediately I would have to skip it, yet I fretted about it for 3 months leading up to my departure.
I wanted the full experience, darn it! Someday I hoped to lead future students trips to Paris, and what would I say? "Here's the most famous symbol of Paris. Y'all go on up by yourselves; I'll wait down here!" How stupid.
I often woke up with panic attacks in the middle of the night. The idea came to me of "giving up" my fear, as though it were a tangible object. I used to attend church regularly then, but I didn't share my struggle with anyone. I secretly prayed to overcome it, yet deep down I was afraid to hope for divine help. I knew it wasn't important enough, and I didn't want to be disappointed. There was no real need, no life or death at stake, just a desire for a fun travel experience. A deep, soul-wrenching desire. So I let a dark storm cloud of fear and dread overshadow my trip plans.
When I finally arrived in Paris, my hotel seemed so close to the tower, but it took 20 minutes to walk there. With each step, the tower loomed larger and more magnificent. Nothing had prepared me for its overwhelming, stately presence. I was completely awestruck!
I walked under and all around La Dame de Fer, The Iron Lady. I was ashamed I'd ever disdained her as inconsequential but was also more convinced than ever I couldn't dare go up. I confided to a few that I wouldn't be at the dinner, thanks to my phobia. They tried to encourage me by saying they were afraid too.  But I didn't believe their fear was like mine. I was different; I was sure it was harder for me than for them. I played my afflicted victim role well.
On the fateful night, I dutifully followed the group to the tower, feeling sorry for myself, because my fear had not lessened one bit. I stood in line, going through the motions, a fraud among hundreds of "normal" people waiting their turn in line. Even pretending to go up made me feel sick. I planned to wait until the last second, then take the "chicken exit," like at roller coasters. Oh yes, I'd done this drill before.
But just as we reached the elevator, something amazing happened. The doors opened…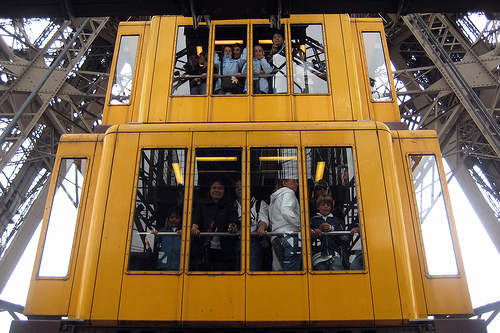 and a brand new thought struck me. I'd been waiting for something magical to happen to me, instead of taking action. I remembered a video from church about the Israelites crossing the Jordan River. It was said they'd had to put their feet in the river before the waters parted, expressing faith via physical action. They chose to take that first fearful step, without knowing what the outcome would be. I realized, no matter how I felt, I had to put my foot into that elevator, to give up my fear in exchange for an uncertain outcome, and now… or never!  I chose "now."
I stepped inside, pressing into a small space with 50+ people. I grabbed the central metal pole and tried to pretend I was on the Métro (subway), a trick my companions advised. Two ladies took my arms in support, while I looked down and concentrated hard on my feet, preparing for the sickening sensation of lurching upward.
A few seconds later, the doors reopened, and we shuffled out onto the first level of the Eiffel Tower. "That's it? We're here?" I asked. To my surprise, I hadn't felt any movement at all. I didn't feel shaky. I didn't have the urge to drop to my knees and crawl. Instead, I felt light, as if 100 pounds had just been lifted off my shoulders. The heavy weight of my fear was gone! Tears of joy sprung to my eyes, and I half laughed, half cried, as people hurried past me. Did anyone else realize what had just happened? I was free! Despite months of doubt, I received a beautiful gift, nothing short of a minor miracle.
Inside the restaurant, there was a seat right next to the window, and I boldly claimed it — instead of cowering away from it, as I normally would have. I marveled at the beautiful scene below: the river dotted with fairy boats floating by, the ant-sized people strolling around, the panoramic view of the City of Lights. I sat there drinking it all in for nearly two hours, as we dined on an elegant, four-course meal.
Sadly, this is the only photo from the restaurant. It was dark, and my camera was a piece of junk. But can you see how happy I am?
During dinner, I saw what seemed to be flashes of lightning. There was a collective gasp, as we all realized the tower was twinkling! I'd forgotten about the tower's 20,000 twinkly lights that turn on for 10 minutes at the top of each hour. It was magical!
The tour officially ended after dessert, and everyone left for the hotel. But not me. I wanted to stay there all night! I set off exploring every inch of the first level.
I used the pay phone to call my family. "Guess where I"m calling from?! I'm on the Eiffel Tower!"  Then I mailed some postcards, so they'd have an Eiffel postmark. Yes, there's a post office up there, along with a movie theater, snack bars, historical exhibits, and souvenir shops.
I fell in love with a mini Eiffel Tower souvenir, different from others I'd seen, because it had tiny twinkle lights that turned on. I generally dislike chintzy souvenirs, but I had to have this as my token of victory — like the stones the Israelites picked up on their way through the river bed. Ok, so maybe my "stone" was of slightly less-than-Biblical significance, but that's how I justified the frivolous purchase.
Then, gradually, a little fear began creeping back; it was time for Cinderella to leave the ball.
At the elevator, I felt a sudden mild panic that it might take me higher up instead of down, but as it descended, I relaxed and enjoyed the view.
Just as I stepped out at 10pm, the tower started twinkling again. I found a bench and sat gazing up at that beautiful Lady for a long time, feeling grateful and so loved. My dusty old dream of going to France really did matter. I was meant to be there, and this night was my proof.

After the tour, I had 2 days to spend on my own. I wandered through markets and museums, absorbing every detail. Each casual sighting of the Lady gave me a surge of joy, instead of fear. She was now my dear friend!
Since then, I've been back to see her twice with my kids, and I had breakthrough moments during those visits, too. She's become a kind of mecca for me, and I eagerly await my next pilgrimage.
Save
Save
Save