Galette des Rois – Kings' Cake Recipe
Epiphany, also known as the Day of Kings or Twelfth Night, occurs January 6th and marks the date on which the Three Wise Men visited baby Jesus.
La galette des rois usually includes a lucky charm, or fève, hidden inside the cake. It can be an almond, a large bean, or a tiny figurine made especially for this purpose.
The bakery version comes complete with a gold paper crown and a fève (lucky charm) hidden inside, which could be anything from a religious figure to an everyday object to a popular film or cartoon character. Some enterprising bakeries even lure customers with the promise of a very valuable prize, hidden in one of their cakes.In many French homes, it is tradition for the youngest child of the family to hide under the table as la galette des rois is cut, then he/she will name a family member to receive each piece. Whoever finds the fève is crowned king or queen for the day and is given a crown to wear.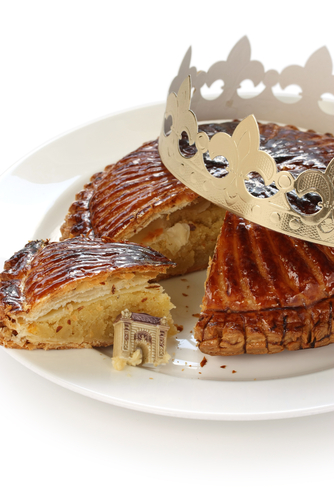 Sadly, I've not yet been in France during January, when boulangeries adorn their window displays with this tempting holiday treat, made of puff pastry and almond cream, aka frangipane.
Feeling left out this year, I decided to make my own galette des rois. If I'd realized how easy (and délicieuse!) it is, I'd have made it sooner!
1. A good chef always begins by getting the ingredients and equipment ready first! This is called mise en place, literally "putting in place" or setting up. It includes reading through the entire recipe, getting out tools and pans, etc.
2. Mix the frangipane filling: sugar, butter, almond flour, eggs, and flavorings and set aside. If you don't have almond extract, you can omit it and use all vanilla extract. Or, use all almond extract – you're the king of this recipe!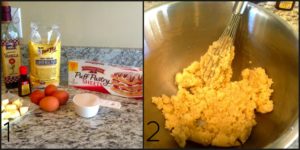 3. Cut two circles from the puff pastry. A pot lid makes an easy template.
4. Next, spread the frangipane evenly in the center of one circle. Leave a one-inch border around it to leave room to seal the edges. You may have some filling left over. Add the large bean, almond, or lucky charm (optional). Brush the border with some water and place the other circle of dough on top.
5. Press the edges together carefully, sealing the mixture inside. Use a fork to crimp the edges, or use your fingers to flute them like a pie crust. Brush the top and sides with egg wash (egg and water beaten together in a small bowl).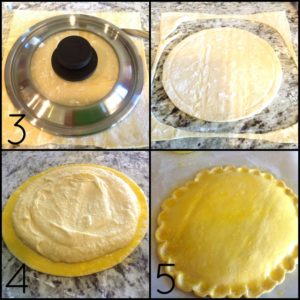 6. Use the tip of a knife to decorate the top in any design you wish. I copied this wonderful design from David Lebovitz. Draw 5 vertical lines, then diagonal lines in each column in alternating directions, like feathers or veins in a leaf. Poke a hole in the center and let the cake chill in the fridge before baking as directed below.

Save
Save
Save
Save
Save
Save