Clafoutis – Easy French Dessert
If you can make pancakes, you can make this easy French dessert recipe! Don't let the fact that this recipe comes from Julia Child's classic Mastering the Art of French Cooking frighten you. There is nothing scary about these 7 ingredients, and it's versatile as a tasty breakfast, snack, or dessert.
Start by assembling all your ingredients and measuring them out. This step is called mise en place in French, and it's very important! Notice the recipe says to use half the sugar called for in the batter. The rest will be used to sweeten the fruit itself.
I used my Bosch blender to mix the pancake batter, but it's just as easy to whisk it by hand in a mixing bowl.
Pour a thin layer of batter in the greased pie plate, then add the fruit on top. Sprinkle the fruit with sugar. I used les mûres, blackberries. You could also use les myrtilles (blueberries) or les cérises (cherries). Cherries are the most traditional choice, but they are all three delicious, so try a one of the others next time!
Pour the rest of the batter over the fruit. Now it's ready to bake!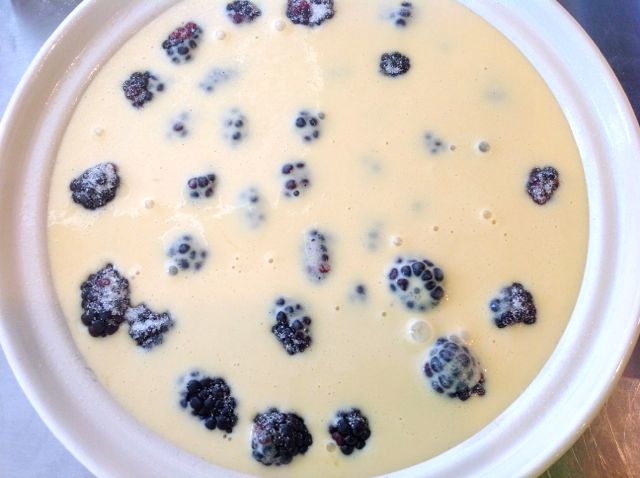 Try this recipe and let me know how you like it! I hope you will say, "Miam, miam! Très bon!"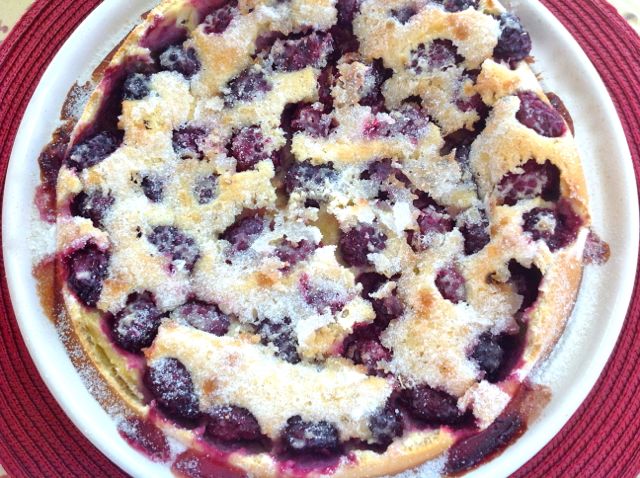 Clafoutis aux Mûres (Blackberry Flan)
Author:
Adapted from Julia Child
Prep time:
Cook time:
Total time:
This is a classic French "peasant" dish from the south of France. Substitute blueberries or cherries for the blackberries. Fruit may be fresh, frozen (thawed and drained), or canned (drained).
Ingredients
3 cups fresh blackberries
1¼ cups whole milk
⅔ cup sugar, divided
3 large eggs
1 Tbsp vanilla extract
⅛ tsp salt
1¼ cups flour*
*If using cherries, reduce flour to ½ cup
Instructions
Preheat oven to 350F
Grease a 9" pie pan with butter
Wash the fruit, removing stems or pits
Add milk, ⅓ cup of the sugar, eggs, vanilla, salt, and flour into a blender or mixing bowl.
Blend at high speed for one minute or stir with a whisk until thoroughly combined.
Pour a thin layer of batter into the greased pie pan.
Add the drained fruit evenly over the batter and sprinkle with remaining sugar.
Pour the remaining batter over the fruit.
Bake for one hour or until puffed up and golden; a knife inserted in the center should come out clean. Let cool.
Serve warm or at room temperature, topped with powdered sugar or a little ice cream.
Save
Save
Save
Save
Save