Epiphany, also known as the Day of Kings or Twelfth Night, occurs January 6th and marks the date on which the Three Wise Men visited baby Jesus.
La galette des rois usually includes a lucky charm, or fève, hidden inside the cake. It can be an almond, a large bean, or a tiny figurine made especially for this purpose.
The bakery version comes complete with a gold paper crown and a fève (lucky charm) hidden inside, which could be anything from a religious figure to an everyday object to a popular film or cartoon character. Some enterprising bakeries even lure customers with the promise of a very valuable prize, hidden in one of their cakes.In many French homes, it is tradition for the youngest child of the family to hide under the table as la galette des rois is cut, then he/she will name a family member to receive each piece. Whoever finds the fève is crowned king or queen for the day and is given a crown to wear.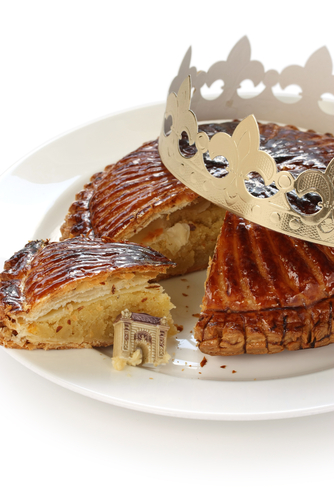 Continue reading…
Leave a comment