At our homeschool co-op, I taught a class called "Bon Voyage" with travel-themed vocabulary and culture lessons: famous monuments, shopping, transportation, and directions on a map.
One of the most charming aspects of French life is the variety of small specialty shops found in each town, from small villages to large metropolitan cities.  Despite the noise of the bustling, modern world, wandering the streets in France can feel like traveling back in time. Popping in and out of little mom-and-pop shops, exchanging greetings of "Bonjour Madame, Bonjour Monsieur!" is so vastly different from shopping at Wal-mart!
(Hmmmm… I wonder if somewhere in France there is an opposite of me, someone who thinks French shopping is old-fashioned and yearns to shop at Wal-mart? Would they take pictures of giant cola and chip displays, like I take photos of pastries in bakery windows? Surely not!)
Before classes began, I found several long, rectangular boxes and spray-painted them a creamy stucco color, to represent the limestone of Parisian buildings.  I spray painted the box flaps a textured slate-gray color for the roofs. Each student was given a stiff cardboard panel, about 14″ tall by 11″ wide, to fit the outside dimensions of my boxes.
I wanted to make wrought-iron balconies from pipe cleaners or wire, but it was time-consuming and didn't look right in the end. I tried finding a window graphic of balconies to cut and paste, but no luck. Another mom found an arched window graphic, so we printed several sheets of windows and cut them out. This gave everyone's panel a unified look.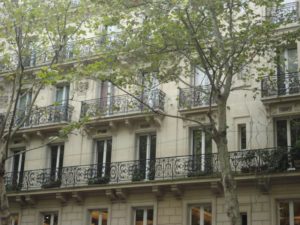 As my students learned the names of French specialty shops, each chose their favorite and created a representation of it on their cardboard panel.  Every week we added buildings, streets, shops, and monuments to build our city.
The streets were spaced wide enough for them to walk through, so we could practice giving/receiving directions to tournez à gauche (turn left), tournez à droite (turn right), or continuez tout droit (go straight) until they arrived at their assigned destination.  This is what I love about homeschooling: learning "off the page," i.e., learning by doing. No boring workbook pages!
Once all the storefront panels were finished, we attached them to the large boxes I'd painted, and arranged them into market streets, like this one:
Student ages ranged from 7 to 17 years old, and I was amazed to see their creativity!  Below are some photos from our Open House, where we had to fit everything on tabletops along with displays from other classes.  For some reason, I didn't get photos of it on the floor in the classroom, probably because we were always busy trying to make progress in a 45-minute class held only once a week!
La pâtisserie, the pastry shop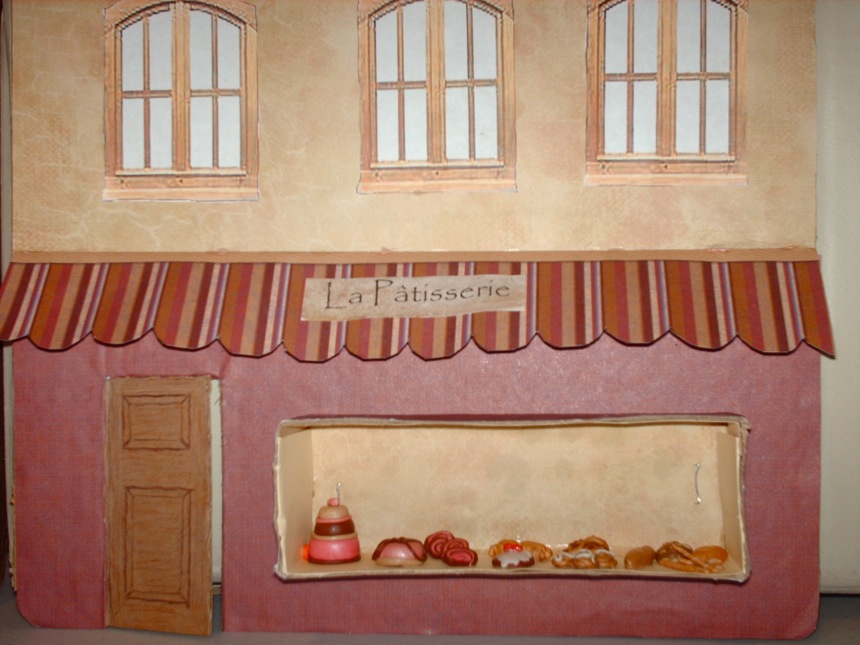 This student amazed me by sculpting her own pastries and cakes for her window!  She covered the cardboard in scrapbook paper, made an awning, and cut an opening for the door.
La boucherie, the butcher shop
This student cut out the butcher and meat display, then added foam spacers for a 3D effect (hard to tell from photo but a great effect). His awning is bordered with a ribbon, and the door and windows have real wood frames.
La boutique de fleuriste, the florist shop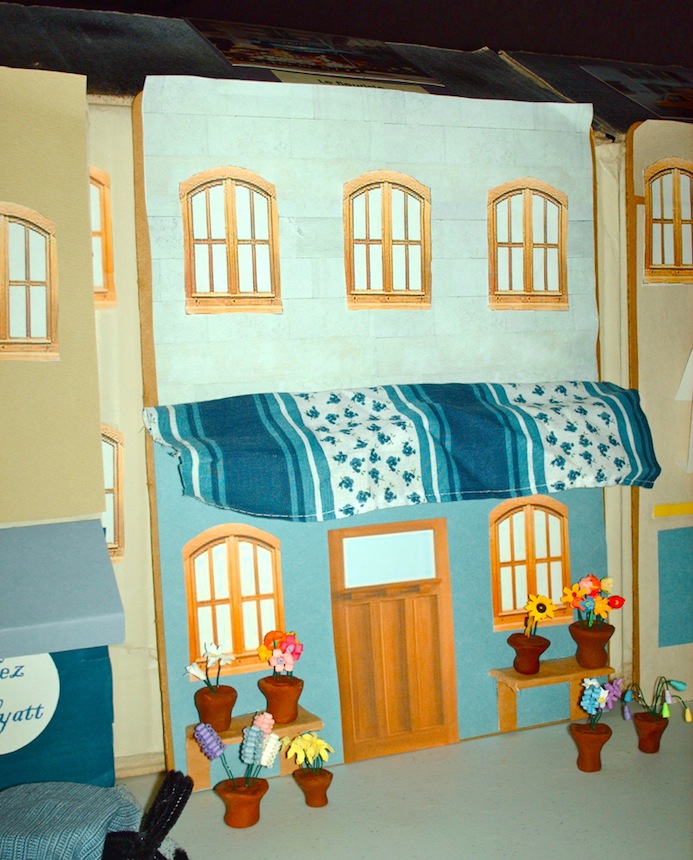 Two girls worked on this shop. In another co-op class, they were learning paper quilling, so they made all the flowers from paper and sculpted little clay pots for them! Floral fabric for the awning.
La poste – the post office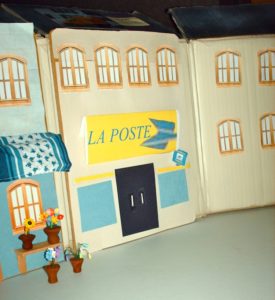 French mailboxes and mail trucks are all yellow, as opposed to blue in the U.S. and red in the U.K. Isn't that interesting?
Le café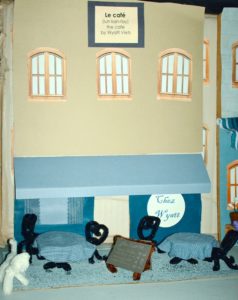 This one has tables outside, with a chalkboard menu, and a white poodle! The French love to take their dogs with them everywhere, even to restaurants.
Le parc – the park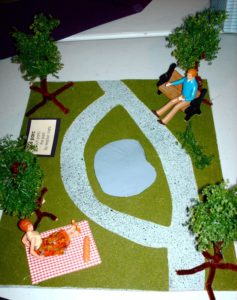 Every town has its green spaces, some with ponds and water features. This lady is having a pique-nique with a baguette.
La boulangerie – the bakery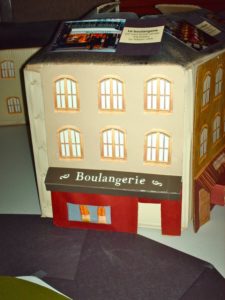 More 3-D bread in the window. Awnings are an essential feature of French shops.
Le musée – the museum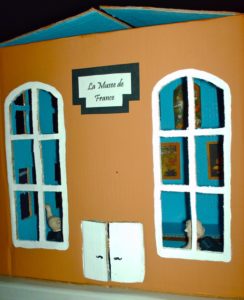 The girl who made this one took time to paint the inside, cut out fancy windows, and fill it with paintings and adorable hand-made sculptures. Love it!
For the open house, I added photos and labels so observers could see what we'd been learning about in class.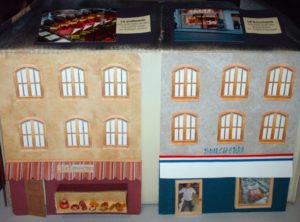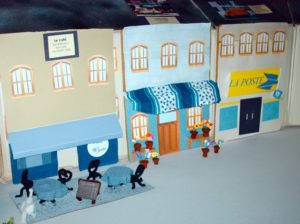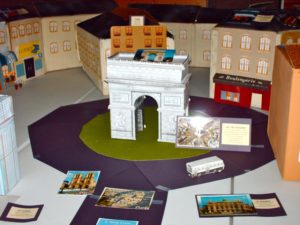 We also created a roundabout with a model of the Arc de Triomphe, from a free online printable. Since then, I've found a nicer color version here.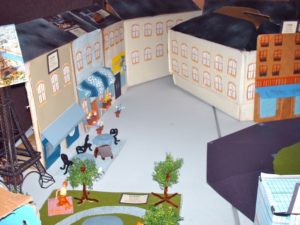 These are grouped close together on tables, but during class they were spaced far enough to walk through. See the tiny airplanes at the airport? We also had a zoo with animals, hotels, and little cars and buses, all made by the students.  Voilà!  Everything you need for a successful city!
Save
Save
Save
Save
Save
Save
Save
1 Comment