Boeuf Bourguignon – Burgundy Beef Recipe
Julia Child's classic recipe for Boeuf Bourguignon, straight from her book, Mastering the Art of French Cooking. I have made only very minor adaptations for the sake of convenience.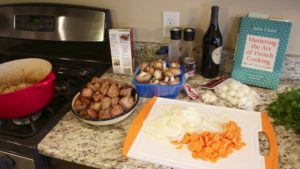 After you've fried the bacon, pat the beef dry with a paper towel, then brown it in the bacon drippings. Do this in several batches, so you don't crowd the pan. Prepare the veggies.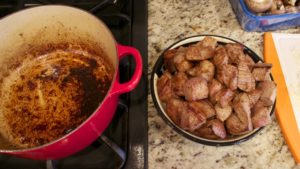 The meat is browned on all sides, but not cooked yet. Remove and set aside, so we can cook the veggies. You can't see it, but the beef is resting on a bed of cooked bacon.
(I wish I could rest on a bed of bacon. Mmmmmmm.)
All that good stuff in the bottom of the pot is called fond, and it adds flavor to the stew.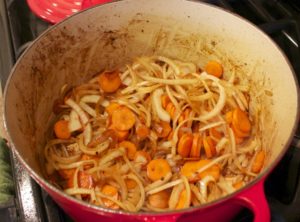 Add the onions and carrots, scraping the bottom of the pan to loosen the fond.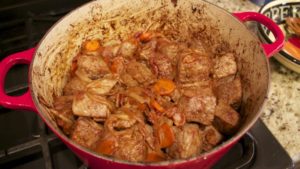 Then add the meat back into the pot, add the salt, pepper, and flour, and stir together. Place uncovered in the oven and cook for 8 minutes, stirring halfway through.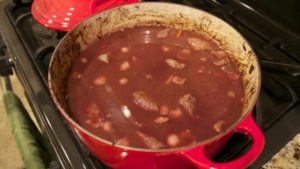 Now add the beef stock, tomato paste, garlic, thyme, and bay. Pour in the bottle of wine. Glug, glug, glug!
Pop the lid on, and slide it into the oven for 2 1/2 to 3 hours.
You can go relax for awhile and enjoy the aroma that will soon take over the whole house.
Maybe watch some episodes of Julia on The French Chef!
About an hour before the stew is done, start the onions, mushrooms, and potatoes.
Take the stew out of the oven and add the prepared onions and mushrooms. Sprinkle with parsley and voilà! Dinner is ready!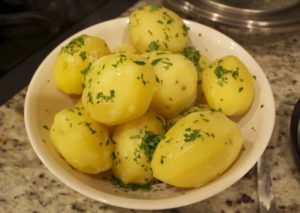 Add some butter and parsley to the cooked potatoes. Sprinkle with salt and pepper.
Enjoy with some crusty French bread! Bon appetit!
This stew will take approximately 4-5 hours from start to finish, but it's totally worth it!
Boeuf Bourguignon - Burgundy Beef Recipe
Beef stew in red wine with bacon, onions, and mushrooms
Ingredients
4-6 slices bacon
3 pounds beef stew meat, in 1" to 2" pieces
1 carrot, sliced
1 onion, sliced
1 tsp salt
¼ tsp pepper
2 Tbsp flour
1 bottle red wine
2-3 cups beef stock
1 Tbsp tomato paste
2 cloves garlic, minced
½ tsp thyme
1 bay leaf
18-24 boiling onions
8 oz. fresh mushrooms
3 Tbsp butter
4-6 Tbsp olive oil, divided
Parsley for garnish
Boiled or mashed potatoes for serving
Instructions
Preheat oven to 450F.
Chop bacon into bitesize pieces. Heat an ovenproof casserole over medium heat and fry the bacon in a small amount of oil until browned. Remove bacon and set aside.
Pat stew meat dry with paper towels and brown it in the bacon drippings, cooking in several batches to avoid overcrowding the pan. Meat will not be fully cooked; remove it and set aside with bacon.
Add sliced onions and carrots to pot and sauté until softened. Scrape the browned bits of meat off the bottom of the pot as the veggies cook. Drain off remaining fat.
Add browned meat and bacon back into pot with vegetables. Sprinkle with salt, pepper, and flour, tossing to coat. Place casserole in oven, uncovered, for 8 minutes, pulling out to stir after 4 minutes.
Remove from oven and reduce heat to 325F. Add tomato paste, garlic, thyme, and bay leaf to the meat mixture. Pour in wine and enough stock to almost cover the top of the meat. Stir to combine and bring to a simmer over medium low heat.
Cover with lid and place in the oven for 2½ to 3 hours.
Meanwhile, prepare onions by blanching them in boiling water for 30 seconds. Remove onions to ice water. Slip off the skins and pierce a small slit into the root end of each onion with a knife. Pat dry and sauté onions in a saucepan with 1½ Tbsp butter and 1½ Tbsp olive oil. Cook for 10 minutes, or until softened. Add ½ cup beef stock, cover, and simmer for 40-50 minutes.
Wash and quarter mushrooms. Pat dry and sauté in 1½ Tbsp butter and 1½ Tbsp oil until browned. Set aside.
Remove casserole from oven. Use a slotted spoon to remove meat onto a plate. Skim fat off sauce and discard bay leaf. If sauce is too thin, boil it until it reduces. If sauce is too thick, add a little water or stock. Taste to adjust seasoning.
Return meat to casserole; add cooked onions and mushrooms. Stir to combine. Simmer as needed to heat through.
Serve stew over boiled or mashed potatoes. Garnish with chopped parsley.
Save
Save