Boeuf Bourguignon – Burgundy Beef Recipe
Julia Child's classic recipe for Boeuf Bourguignon, straight from her book, Mastering the Art of French Cooking. I have made only very minor adaptations for the sake of convenience.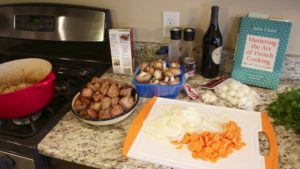 After you've fried the bacon, pat the beef dry with a paper towel, then brown it in the bacon drippings. Do this in several batches, so you don't crowd the pan. Prepare the veggies.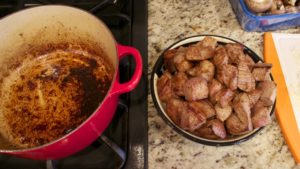 The meat is browned on all sides, but not cooked yet. Remove and set aside, so we can cook the veggies. You can't see it, but the beef is resting on a bed of cooked bacon.
(I wish I could rest on a bed of bacon. Mmmmmmm.)
All that good stuff in the bottom of the pot is called fond, and it adds flavor to the stew.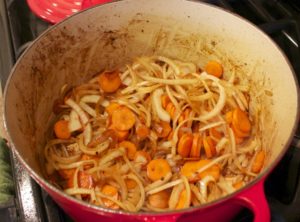 Add the onions and carrots, scraping the bottom of the pan to loosen the fond.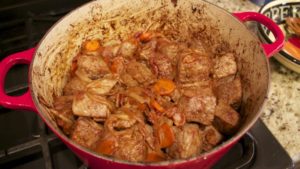 Then add the meat back into the pot, add the salt, pepper, and flour, and stir together. Place uncovered in the oven and cook for 8 minutes, stirring halfway through.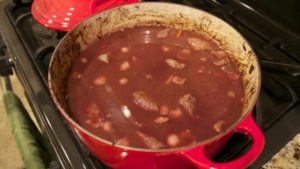 Now add the beef stock, tomato paste, garlic, thyme, and bay. Pour in the bottle of wine. Glug, glug, glug!
Pop the lid on, and slide it into the oven for 2 1/2 to 3 hours.
You can go relax for awhile and enjoy the aroma that will soon take over the whole house.
Maybe watch some episodes of Julia on The French Chef!
About an hour before the stew is done, start the onions, mushrooms, and potatoes.
Take the stew out of the oven and add the prepared onions and mushrooms. Sprinkle with parsley and voilà! Dinner is ready!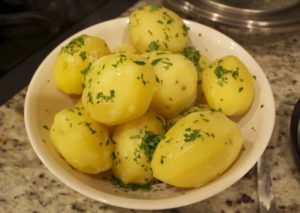 Add some butter and parsley to the cooked potatoes. Sprinkle with salt and pepper.
Enjoy with some crusty French bread! Bon appetit!
This stew will take approximately 4-5 hours from start to finish, but it's totally worth it!
Save
Save